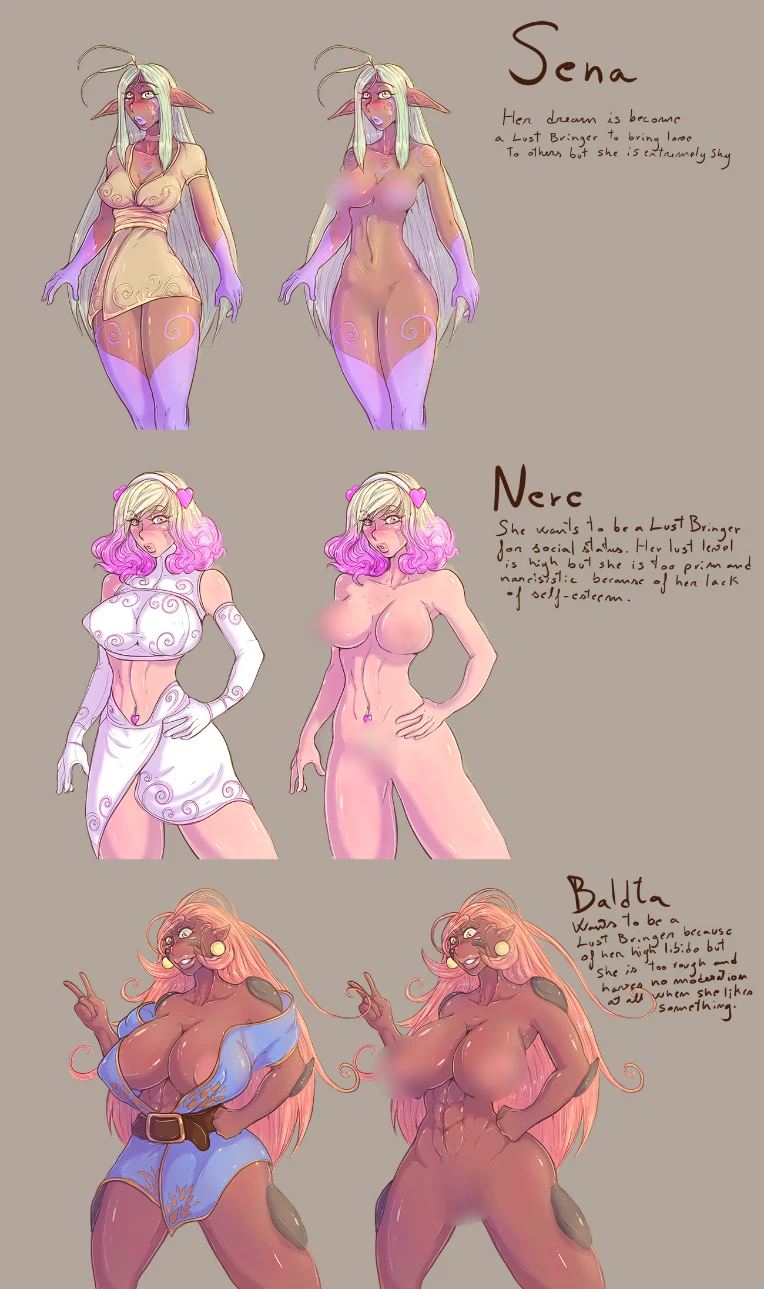 Hi everyone! We had our two weeks vacation and now our powers have been fully restored! We are working again and ready to finish chapter 3 as soon as possible!
We also want to present our next project, the first mid term project we want to do (with an estimated development time of 6-9 months, that should also allow us to publish small projects every 1-2 months) and the its possible main character.
The name of the game will be Lust Bringers, mentorship, a game where a retired Lust bringer (a priest/priestess from the Temple of Love) will have to train an aspiring Lust Bringer candidate who is very promising but, because of its behaviour or personality traits, has not been able to join the regular training at the Temple of Love.  
The game will start with the high priestess of the Temple of Love (one of the most important institutions of the city), bringing an aspirant to the door of a man, a retired Lust Bringer who is married to another retired Lust Bringer. The high priestess will ask the man to mentor the aspirant because she really wants to become a Lust Bringer and has a lot of potential. At first he will refuse because he is  happy with his new life but, after some negotiation, and the intervention of his wife, they will accept the aspirant in their home to train her and help her to achieve her dream to become a Lust Bringer of the Temple of Love.
Our idea is to start with just one character to train but if we see during the development that this is something people likes, we are open to do more "mid term projects"  to add more aspiring Lust Bringers to train, as well as male aspirants for the wife to train. Also, in this projects, we would like to do every scene and training animated, at least most of it.
What you see in the image is the possible concepts of aspirants to Lust bringer we have thought during last week  and our patrons in the influenced guard tiers and above can vote which one will be the main character of the game until September 16.
See you soon and have a nice day!
https://www.patreon.com/elanachampionoflust
https://twitter.com/elana_official